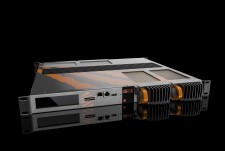 MISSISSAUGA, Ontario, September 6, 2017 (Newswire.com) - iS5 Communications Inc. releases RAPTORTM - A Next-generation Cybersecure Industrial Platform designed for Industrial IoT/Industry 4.0 applications to its first beta customers.
iS5 Communications Inc. ("iS5Com") today announced that it has shipped its first RAPTORTM platform to key beta customers. RAPTORTM is a hardened cybersecure platform that allows industrial and critical infrastructure customers to build communications networks, and to move their IIoT/Industry 4.0 applications securely to on-premise, as well as, cloud platforms.
"We are very excited to be able to ship our first RAPTORTM units to our customers for beta testing. RAPTORTM, is an IEC 61850 platform designed with security from the ground up. Features such as Secure Boot, Layer 2 Encryption, are just some of the security features built into the RAPTORTM platform. The stringent requirements of Operational Technology (OT), Information Technology (IT), Cybersecurity, and ease of use were also key requirements for the design," noted, Clive Dias, President and CEO of iS5Com. "RAPTORTM marks a milestone for iS5Com, and is a testament for our vision and how we see the industry transforming from legacy flat networks, to more secure, intelligent, and robust digital architectures.
Providing users the ability to connect, secure, and manage their mission critical networks, RAPTOR's core features enables users to take advantage of Seamless Redundancy (HSR/PRP), Time Sensitive Networking (TSN) and third party software applications via application programming interfaces (APIs), as well critical cryptographic technologies that ensure protection from threats that harm SCADA environments. The rise of cyber threats only perpetuates the need for advancements in technology communications to protect critical assets in Operational Technology (OT).
RAPTORTM is the culmination of many years of industry experience, trends in the digital markets, IIoT and Cybersecurity, playing an integral part in the RAPTORTM design. RAPTORTM takes into account the latest technologies and innovations with many industry firsts.
iS5Com's next milestone will be the ongoing enhancement and building of the RAPTORTM industrial platform, which will include new additional security features, Layer 3, and software applications.
About iS5 Communications Inc.
iS5Com is a global provider of integrated services, solutions, and platforms designed to meet the stringent requirements for critical infrastructure protection. Our solutions are key enablers for advanced technology implementation in the Smart Grid, Smart Cities, Intelligent Transportation Systems, Rail, Industrial, and Defense applications. iS5Com is headquartered in Mississauga, Ontario, Canada. For more information on iS5Com, please visit www.is5com.com or contact us +1 (905) 670-0004.
Source: iS5 Communications Inc.
Share: